Detecto Round Cake Decorating/Ingredient Scale
by
Detecto
|
Item
# 481116
|
Model#:
RP30R
|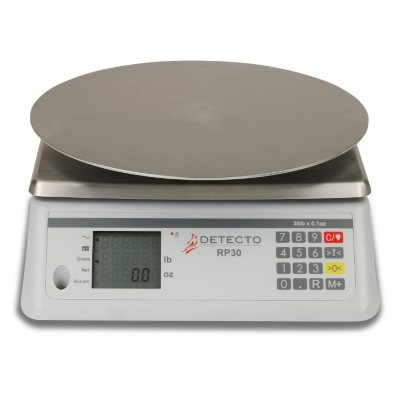 Detecto's RP30 with rotating platter allows you to view the weight of icing or ingredients while they are being prepared on the scale.
Description
Take a bite out of expenses with Detecto's RP30 digital ingredient scale. It isn't uncommon for a frosted cake to carry between six to eight ounces of excess frosting. The price of frosting is around 75 cents per pound, so when a bakery is making 25 cakes per day, 6 days a week, 52 weeks a year, that can be over $2,500 a year in wasted overages in frosting alone. Detecto's RP30 ingredient scale helps prevent this with consistent portion control, allowing you to view the exact amount of icing as it's applied and reducing ingredient inventory costs based on weight. With a busy bakery completing several cakes per hour, product savings add up fast. A 360-degree rotating platform further reduces production time, creating big savings and a fast payback on your investment.

The RP30s are also great for pizzerias, where the cost cutting advantages of monitoring ingredients become clear when you start to consider the numbers. When it comes to creating pizzas, ingredients like deli meats, olives and cheese can add on pretty quickly. Whether you're making a supreme pizza with ingredients piled on high or a simple cheese pizza, eliminating excess usage of these high-cost ingredients becomes a necessity to good business. With all the money saved avoiding overages, this scale will typically pay for itself within three to six months.

This scale is a must-have for any sandwich shop. Monitoring the weight of individual ingredients and the total sandwich weight as it is being prepared provides an excellent method of training with which to teach employees the importance of equal and consistent proportions to make a great product without giving away excess valuable commodities.

Detecto's RP30 series allows you to view the weight of ingredients while they are being prepared directly on the scale. By pressing the tare key, you are able to view the weight of each individual ingredient as it's added to the scale. Once the product is prepared, simply remove it from the scale to view the total weight of all ingredients.

With a large, round stainless steel platform (13") and a 30 lb. x 0.1 oz. capacity, the RP30 series is more than capable of taking on any task in the food industry, whether it be cakes, pizzas, sandwiches or any other food preparation where portion-exact ingredient control is desirable. Taking up minimal space, with dimensions measuring only 12.5" x 13.5" x 4" plus a built-in rechargeable battery or AC adapter, allows the RP30 to fit comfortably into any kitchen environment. A six-digit, seven-segment, 1/2" (13mm) high, backlit LCD display shows weight in pounds and ounces as well as annunciators for weight stability, battery power, gross, net and memory accumulator. A sealed membrane keypad, complete with tare and zero buttons, makes the operation of the RP30 convenient and easy. Together with the removable stainless steel platform, any necessary clean-up becomes a simple, stress-free chore.
Specifications
360-degree rotating platform - round
30 lb. x 0.1 oz. capacity
Displays individual ingredient weights and total product weight
Numeric keypad
Built-in rechargeable battery (included)
Warranty Information
1 Year Replacement

There is no additional information available for this item.