Defender Sync 19" LCD All-In-One Security System - 8 Cameras
by
Defender
|
Item
#: 651339
|
Model #:
XSC1-503-008
|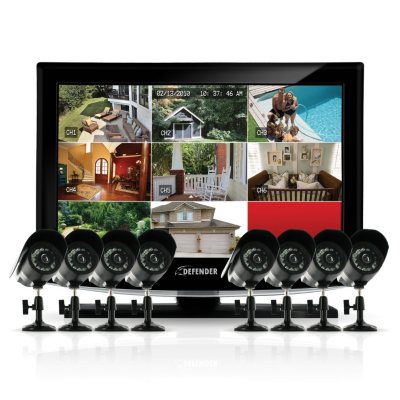 The Sync security system is all you need to protect your business.
Description
View Online or on a Smartphone
This system allows you to check on your footage, no matter what time it is or where you are in the world. You have the power to access your DVR's footage over the internet or directly from your iPhone® or BlackBerry® smartphone.

All-In-One Security System
Sync combines a vibrant 19" LCD monitor with a powerful DVR system. The compact design is sleek, stylish and easy to set up. The LCD DVR can even be wall mounted, allowing you to save even more space when protecting your property.

500GB HDD Records in Real Time
Using cutting-edge H.264 compression, you can record over a month of continuous video. The footage records in real time (30 frames per second), so that when you play your footage back, it streams flawlessly and ensures that you never miss a thing.

Helpful Coaching iMenu
As you go through the settings, information bubbles appear to describe what each option does. This helpful menu allows you to learn about all the amazing features your system has as well as allows you to set your system up quickly and hassle free.

Night Vision Equipped Cameras
Each camera comes equipped with 12 infrared LEDs allowing you to see any monitored area in total darkness, up to 15' away!

24/7 Lifetime Live Customer Support
Assistance is available whenever you need it. Our customer support team can be reached by phone 24/7, email or live web chat, so you will always have access to an expert

Protect Your Assets with Privacy Masking
The unique privacy masking option protects privacy and liability by allowing you to block certain objects from being viewed or recorded. Mask out employee rest areas or alarm systems where special codes need to be entered so that you and your employees' rights are protected.

Multiple Viewing Options
Multiple viewing options allow you to view eight cameras at once, four cameras in quad screen or one camera at a time. You can also cycle through each camera in sequence mode or view up to three cameras with the unique Picture in Picture option.

Multiple USB Backup Options
A built-in USB port gives you multiple back up options. If you want to keep footage for safety purposes or if you need to give the authorities footage, you can choose to transfer to a USB flash drive, external hard drive or an external CD/DVD writer.

Advanced Recording Options
The motion detection option allows you to record only when motion is detected so that you save hard drive space and still record all the important events. You can even ensure that false alarms are not triggered by easily blocking out areas with constant movement.

24/7 Scheduled Recording
You have the option to record constantly, record based on a set schedule or record only when motion is detected. You can set each camera to record a specific schedule and choose which days of the week and hours of the day you want to record.

Included Mouse and Remote Control
The included mouse and remote control allow you to navigate through the menu easily and hassle free.

Password Protection
Password protection ensures that only authorized people can view your footage or adjust your DVR settings.

Search by Date, Time or Event
You can search for footage by date, time or event so that you can find the specific footage you are looking for quickly.

Removable HDD with Key Lock
The 500GB HDD is removable for easy access if you need to give footage to the authorities. It is also locked into your system with a key so that unauthorized people cannot remove your HDD.

View actual footage here!
Specifications
Features:
View your footage from anywhere in the world online or on an iPhone® or BlackBerry® smartphone
DVR built in to the 19" LCD monitor, allowing you to save space
Wall mountable
Included 500GB hard drive allows you to record over a month of real-time footage
Comes with 8 cameras so you can easily monitor multiple areas or your property
iCoaching menu teaches you the different features
Privacy Masking protects your privacy by allowing you block out certain areas from being recorded
Multiple viewing options allows you to view all the cameras at once, each camera one at a time or view the cameras using the unique, picture-in-picture display
Easily store and back footage up to a CD/DVD burner or USB thumb drive
Advanced recording options allow you to constantly record, record only when motion is detected or even record based on a set schedule
Scheduled recording allows you to set each camera to a individual personalized schedule, so you are only recording what's important to you
Included mouse and remote control make navigating through the menu quick and easy
Password protection ensures that your footage is only available to authorized people
Search through footage easily with the date, time and event search options
Hard drive can be removed easily and locked into place with the included key
Night vision allows you to see up to 15' away in the dark
Automatic night vision turns on when it gets dark and shuts off during the day to save energy
The weather resistant cameras are made with high-quality aluminum for year-round indoor/outdoor use
The Sharp® CCD image sensors have 420 TV lines of resolution which allow for better distinction of facial features
Included:
19" LCD DVR with 500GB HDD
8 x color CCD cameras
USB mouse
Remote control (batteries included)
8 x 60' video/power cables for cameras
Power adapter for DVR
Power adapter for cameras
10 x BNC to RCA connectors
Keys for removable HDD
10' RJ-45 Ethernet cable
4 x window warning stickers
Software CD
Quick Start Guide
Aluminum yard sign
Indoor warning sign
Shipping Information
Shipping Included
Delivery is not available to AK, HI or Puerto Rico


Warranty Information
1 year
There is no additional information available for this item.