Defender Expandable 16-Channel H.264 DVR Security System with 8 Cameras
by
Defender
|
Item
#: 592137
|
Model #:
XSC1-501-15
|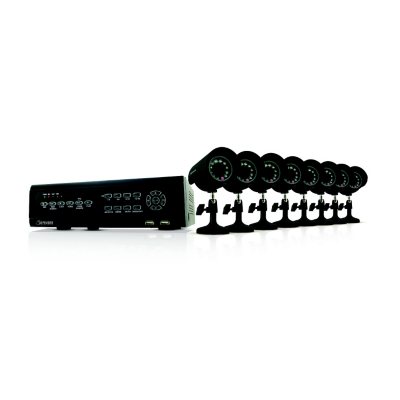 The XSC1-501-15 is an expandable do-it-yourself video security package.
Description
The XSC1-501-15 is one of Defender's complete do-it-yourself systems that are incredibly easy to set up and use with no need to hire a professional installer. Auto-start recording ensures that your system will automatically begin recording as soon as you plug it in to a power outlet. You can easily monitor entryways, offices, shops, warehouses, children's rooms, garages or any other area in your business or home.

Smart Phone Compatible
Access live video footage directly from your iPhone® or BlackBerry® smart phone. This DVR allows you to utilize 3G technology, which is specifically designed to transmit your video and audio at higher speeds. Your DVR can also be set up to e-mail your hand-held whenever specific activity occurs, such as motion detection.

Record Over 2.5 Years of Video Footage
The 500GB hard drive is capable of recording over 2.5 years of continuous video and is optimized for 24/7 surveillance. We only use hard drives that are specifically designed for high capacity writing, which ensures long product life and accurate video data storage. Your DVR will alert you when your memory space is full so that you can overwrite your old video, stop the unit from recording, or backup and transfer your video footage. (Based on a 500GB hard drive, using lowest quality settings).

Cutting Edge H.264 Compression
The XSC1-501-15 utilizes H.264 compression–the latest and most advanced compression level available for a DVR system. You will see an amazing picture but save almost 50% on storage space versus DVRs with MPEG-4 compression! H.264 maximizes your hard drive space.

View Video Online with No Service Fees
Regardless of where you are in the world, you can view your DVR's live or recorded video footage on any Internet accessible computer with Internet Explorer®. See what is happening on your property and check in on your employees or family members. (Requires a router, Windows® operating system, Internet Explorer browser, and broadband Internet connection for online viewing).

We'll Get You Online with Our 24/7 Lifetime Live Customer Support
Assistance is available for you whenever you need it. Simply visit www.defender-usa.com for video networking guides, simple tips on how to protect your property, and instructional videos on topics such as camera placement. Our customer support team can be reached by phone 24/7, or by e-mail and live web chat services so that you will always have access to an expert.

Stay Notified with E-mail Alerts
This system keeps you notified of events occurring in your monitoring location. You can set the unit to automatically send alerts to your e-mail inbox whenever motion is detected or when cameras lose power. Up to seven different e-mail addresses can receive these alerts.

8 Weather Resistant Cameras
Eight high resolution color cameras provide you with a clear and consistent picture. They allow you to better distinguish facial features, which can help in the positive identification of individuals. The cameras can be used indoors and outdoors. Each one is built with professional grade aluminum housing and a sunshade to help prevent glare, deterioration and rusting.

View in the Dark with Automatic Night Vision
The cameras come equipped with night vision, allowing you to see any monitored area (up to 15' away) in total darkness. Each camera has 12 infrared LEDs that activate automatically when it becomes dark and deactivate during the day to save energy. You will always be able to see what is happening in your yard or at your business after-hours.

Multiple Easy Backup Options
You have several ways to backup your important video footage. A built-in USB port gives you the option of backing up and transferring your video footage with a USB flash drive or external USB hard drive. You can connect an external CD/DVD writer and burn your footage to disk. Another great option is the ability to send your video footage to an FTP site. Your video footage then becomes portable for easy viewing and archiving on any PC.

Expandable System up to 16 Cameras
As your business grows, so can your security system. If you are looking to boost your security and monitor more areas, you can add up to 8 additional cameras for more robust monitoring. Any camera with a power supply and a RCA or BNC connection is compatible. Cameras in this system have the model number XSC301-C.

Advanced Motion Activated Recording
You have the option to record video only when motion is detected. Finding important video footage using the playback feature is easy, and will also save you time and conserve hard drive space. You can even set individual cameras to detect motion while the others continuously record. Advanced motion detection settings ensure that false alarms are not triggered-the easy motion detection "mask" allows you to block out areas with constant movement, such as roads or blowing trees so that only suspicious activity is recorded.

24/7 Scheduled Recording to Meet Your Needs
You can fully customize a weekly recording schedule. You can choose which days of the week and hours of the day you want to continuously record, motion record, alarm record, or not record at all. Each camera can be scheduled with different settings (up to 30 frames per second per camera).

Customize Your Camera Display
Display 8 cameras in a split screen, use Quad Screen mode to show 4 cameras or view an individual camera in Full Screen mode. Zoom mode allows you to enlarge a portion of the camera's view to get a closer look, and Sequence mode cycles through all camera views at preset interval times.

Find Your Video Footage Easily with Time, Date, and Event Search
Simply choose the desired date and time range, and the requested video clips will appear. Clips are also labeled by event, which makes it easy to find footage that was captured by motion detection.
Specifications
Access live video footage directly from your iPhone® or BlackBerry® smart phone
Record over 2.5 years of video footage on the built-in 500GB hard drive
The system utilizes H.264, the latest, most advanced compression level, saving you storage space without sacrificing video quality
View video online with no service fees from any computer in the world
24/7 lifetime live customer support is available through phone, e-mail and live web chat both before and after you buy
Protect your property, valuables and family with advanced features that you can setup yourself
16-channel DVR with 500GB HDD
8 indoor/outdoor night vision CMOS cameras
IR remote control (batteries included)
USB mouse
8 60' 4 PIN DIN to RCA (male) video/power wires
2 four-to-one camera power supplies
10' power adapter for DVR
10 BNC connectors (RCA to BNC)
Mounting hardware
Software CD
Instruction manual
Quick Start Guide
4 window warning stickers
24/7 lifetime live customer support
Shipping Information
Delivery is not available to AK, HI or Puerto Rico


Warranty Information
1 year
There is no additional information available for this item.