Daffodil - Golden Ducat / Allium Purple Sensation - 40 Bulbs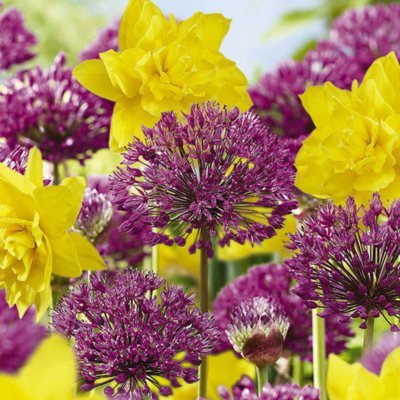 Fall bulbs provide beautiful blooms for landscape color in the springtime.
Includes 20 Golden Ducat Bulbs & 20 Allium Purple Sensation Bulbs
Description
Daffodils and Allium make the perfect pair in the garden. Both varieties are grown for their attractive flowers and are perfect for cut flowers. Daffodils are available in a variety of different colors and sizes. They are excellent for cutting and are all grown for their attractive flowers. They are one of the first signs that spring is on its way. Golden Ducat has double yellow blooms. Allium is the Latin word for garlic, however, it is informally referred to as onion. Allium Purple Sensation has tall upright stems that tower to large deep-purple blooms for a touch of extra color. Allium Purple Sensation makes a beautiful accent in the garden or an ideal cut flower.
Specifications
Fall bulbs are easy to plant and easy to grow
Plant bulbs in groups for mass color impact
Planted in the fall and bloom in the spring
Can provide many years of blooms, returning to bloom year after year each spring
Complete planting instructions enclosed
Not for consumption.
Warranty Information
Guaranteed to grow if instructions are followed.
There is no additional information available for this item.