Clover 8 Channel Security System with 4 Indoor/Outdoor Night Vision Cameras, and 500GB DVR
by
Wisecomm
|
Item
#:

355778
|
Model #:
BUN0884
|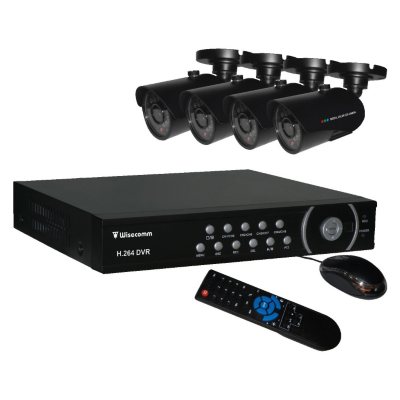 We're sorry, this item is not available in your selected Club.
 Check another Club
The 8 Channel Industrial Security System is pre-programmed to perform right out of the box but is packed with many programmable options
Easily access the DVR remotely on any computer, lap top, tablet, and most smart phones to view the cameras remotely and change settings
The Quadplex feature allows up to 4 users to remotely view cameras live, play back, record, and network at the same time
System includes 4 Indoor/Outdoor Night Vision cameras that integrate new technology to capture quality images
Description
Complete Video Security System

This hard working Industrial 8 Channel Video Security System is a fantastic choice for any small business or home installation. Everything needed to install and use the Clover security system is included in one convenient package and is pre-programmed to perform right out of the box but is packed with many user programmable options such as cameras views, recording rate, recording modes, motion detection, email alerts, remote access over the internet or smart phones, and much more.


Easy to Install and Easy to Operate

The DVR can be accessed using the included USB mouse, remote controller, via the front panel key pad, or over the network with most smart phones and internet browsers from anywhere in the world. In order to access the DVR, a user name and password is required. Once logged in, the administrator can add additional users and set up several levels of authorization for each user. Up to four remote users can log into the system at the same time. No need to worry, all the cameras will be recording. With the Quadplex feature, you can view live video, play back, record, and network simultaneously. The programmable features on the DVR can be modified remotely as well. The DVR can also be programmed to issue email alerts during alarm events and for system status. The DVR has eight universal BNC (British Naval Connector) inputs that are standard video connections making the DVR compatible with almost all CCTV security cameras. There are two video outputs - a standard BNC connector for a spot monitor and a VGA cable making it easy to connect to most monitors. The system has four audio inputs and one audio output. The DVR also supports two separate alarm inputs and one alarm output that can be programmed to trigger an external siren, bell, or send notification to a monitoring station. The two USB connectors can be used to connect the included USB mouse to operate the system via on-screen display and to back-up recorded video to an external hard drive or flash drive. The RS485 connector allows PTZ (pan, tilt, zoom) capabilities on all eight channels.


Use Default Settings or Program for Specific Needs

Once the system is installed and turned on, the screen will display nine windows, one for each camera and a blank screen in the lower right corner. To view a particular camera full screen just left click the mouse on the desired camera window, press the corresponding numerical button on the remote controller or front panel. To revert back to the all view, double-click on the screen or press the "Multi" button on the remote control or the front panel. A right click on the mouse will display a "short cut" menu. The "short cut" menu can also be accessed with the remote and front panel. The main Menu can be accessed by pressing the Menu button or on the "short cut" menu. Accessing the system requires a user name and password. Once logged in, a simple on screen menu appears with five options: Record, Alarm, Settings, Advanced, and Information. The Record section has three options: Schedule - set the recording schedule, Search - search recorded files, and Back Up - back up recorded files. The Record Schedule displays each camera with a range of 24 hours each day of the week and another option to select all days. Each camera can be set individually or all at once. Searching and viewing recorded video is very easy: select the camera, fill in the time frame, and double click on the desired video file. To zoom in on the play back, draw a box in the desired area. A simple click of the mouse reverts back to the normal view. A control panel will be displayed at the bottom of the screen with the for play back navigation. Files can be backed up to any USB device that uses FAT32. The DVR will automatically detect the attached USB device display it in the Backup Device field. Chose the files to be backed up and click on the "Back Up" button in the lower right hand corner. The Alarm section defines how the DVR will respond to alarm events (motion detection, camera masking, video lost, alarm input, alarm output, and abnormity. The DVR actually detects the motion on each camera so no additional motion detector is required. There are 396 zones on each camera view that can be set to six different sensitivity levels from ignoring any motion to triggering the system to record once it detects motion. The DVR can be programmed to "act" during alarm events. The DVR can automatically send out email alerts, start recording on selected channels, and queue any PTZ cameras to a user defined position or tour. The system also detects camera masking (when the lens of a camera has been covered), video loss, and any abnormalities. The Settings section is where the general DVR settings are controlled which include setting the current time and date, camera and display mode and resolution, program for networking, add and manage additional user accounts, program PTZ cameras, and program the alarm settings. The Advanced section gives access to manage the HDD, upgrade the system, configure parameters, maintenance, reset all configurations to factory defaults, and shut down system. The Information section retains the information on the HDD, BPS, Event Log and System Version.


Indoor/Outdoor Night Vision Cameras

The system includes four indoor/outdoor night vision cameras that integrate new technology to capture quality images. Each camera has 24 Infrared LEDs that provide up to 45 feet of night vision and uses a CDS sensor as a light sensor to turn on the Infrared LEDs in low light conditions. Unlike most system cameras, these cameras terminate with a BNC connector and can be used in most video surveillance applications. The enclosure is made of ruggedized steel delivering years of service and the low profile camera mount allows for a more discreet installation. Everything needed to install all four cameras is included in one convenient package. Each camera channel can be customized with a unique name to quickly identify each camera location. The unique camera name can be displayed on screen along with the current date/time. The display options include camera name and date/time, camera name only, date/time only, or no display.


Security With Reliability

Whether used for the office, warehouse, retail store, or even your home, you can trust the Clover BUN0884 Video Surveillance System for quality video protection. If you need additional information or have any questions please call our friendly staff at 877-327-5000 or visit our web site at www.cloverusa.com.
Specifications
System
Number of Cameras:
System Includes 4 Indoor/Outdoor Night Vision Cameras with 420 TV Lines Resolution
Number of Channels:
8 BNC Input Channels
Hard Drive Space:
500GB Hard Disk Drive Installed
Wired or Wireless:
4 Wired Cameras with 60 Feet of Cable
Average Minimum Setup Time:
Not Specified
DVR
DVR Model:
CDR0820
Number of Channels:
8 Video Channels Input Using BNC Connections
Number of Channels with Audio:
4 Audio Input Channels, 1 Audio Output Channel
Hard Drive Size:
500GB Hard Disk Drive Included
Maximum Hard Drive Expandability:
Hard Drive Can Be Replaced with 1TB HDD
Recording Resolution:
Programmable from 352x240 to 704x480 On All 8 Channels
Recording Frames per Second:
Programmable Up To 240 Frames Per Second
Recording Compression:
H.264 Video Compression
Recording Modes Available:
Programmable To Record Continuous, Scheduled, Manual, Alarm, And Motion Detection
Wireless Camera Receiver:
Not Available
Video Motion Detection Recording:
Programmable Motion And Alarm Recording On All 8 Channels
Pre-Event Recording/Capacity:
Not Specified
Mobile App Viewing:
Connect To DVR With iPhone, Android, Blackberry, Windows Mobile, and Symbian
E-Mail Alert Notification:
Programmable Email Alerts Sent To Multiple Email Addresses During Alarm Events
Maximum Number of Remote Viewers:
Up To 4 Remote Users At One Time
Playback and Search Options:
Normal, Fast Forward, Slow Forward, Rewind, Single Step
Data Backup Options:
Backup Data Using USB Flash Drive, External HDD, Or Via Network
Digital Zoom:
Selectable Digital Zoom
Pan-Tilt-Zoom Controls:
Programmable PTZ Controls On All 8 Channels
Still Frame Capture:
Still Frame Capture On All 8 Channels
Alarm Terminal Trigger Recording / # of Inputs:
4 External Alarm Inputs (RS485)
External Alarm Ouput Contact(s):
1 Alarm Output (RS485)
Operating System:
Embedded Linux, Programmable for NTSC or PAL
Included Accessories:
Instruction Manual, Remote Controller, USB Mouse, RJ45 Cable, CMS Software, AC Power Cable
Camera Cable Connection Type:
Compatible With All BNC Connector Cables
Compatible Cameras:
Compatible With Most CCTV Cameras (BNC Input)
DVR Dimensions:
12.4" W x 9.1" D x 2.25" H
Camera 1
Camera Model and Type:
OC1554 Indoor/Outdoor Night Vision Cameras
Number of Cameras:
Includes 4 Indoor/Outdoor Night Vision Cameras
Image Sensor Type:
Color CCD Image Sensor
TV Lines:
420 TV Lines Of Resolution
Resolution:
420 TV Lines Of Resolution
Effective Pixels:
512 (H) x 492 (V)
Aperture:
Not Specified
Focal Length (35mm Equivalent):
3.6mm Lens F 2.0
Pan-Tilt-Zoom Capability:
Not Available
Optical Zoom:
Not Available
Angle of View:
The Angle Of View Is 92 Degrees
Color or Black and White:
All Color Cameras
Wireless Camera-DVR Connection:
Not Available
Audio Capability:
Not Available
Number of Infrared LEDs:
24 Infrared LEDs
Night Vision Distance:
Up To 45 Feet Of Night Vision
Recommended for Outdoor Use:
Install Cameras Indoor Or Outdoor
Weather Resistance (IP Rating):
Ruggedized Steel Housing
Operating Temperature:
Not Specified
Operating Humidity:
Not Specified
Tamper Protection:
Ruggedized Steel Housing
Compatible DVRs:
Compatible With All DVRs With BNC Connections
Compatible Cables and Connector Type:
Compatible With All BNC Connector Cables
Length of Cable Included:
Each Camera Includes 60 Feet Of Cable
Camera Dimensions:
3 Inches Long x 2 Inches Diameter
Technical Support
Phone Number:
877-327-5000
Hours of Availability:
Monday Through Friday, 8 AM - 5 PM PST, Closed Holidays
Web Support URL:
www.cloverusa.com
Package Contents
1 - CDR0880 Industrial 8 Channel Real Time DVR with 500GB Hard Drive
1 - CDR0880 DVR Instruction Manual
1 - DVR Quick Set Up Guide
1 - DVR Remote Controller
2 - AAA Batteries For DVR Remote Controller
1 - USB Mouse
1 - RJ45 Cable
1 - Audio Cable
1 - AC Power Supply
1 - Software CD
4 - Indoor/Outdoor Night Vision Cameras with Integrated Mounting Brackets
4 - 60 Feet BNC/Power to BNC/Power Cables
4 - Mounting Screw Sets
1 - AC Power Supply with 4 DC Outputs
1 - Camera Instruction Manual
1 - Warranty Registration Card
Details
Dimensions: 14" W x 18" H x 10" D
Weight: 20 Lbs
Warranty Information
1 Year Parts and Labor
There is no additional information available for this item.