BB-600 Ultimate Bidet Seat - Elongated - White
Item
#: 911090
|
Model #:
BB600
|
(2)
|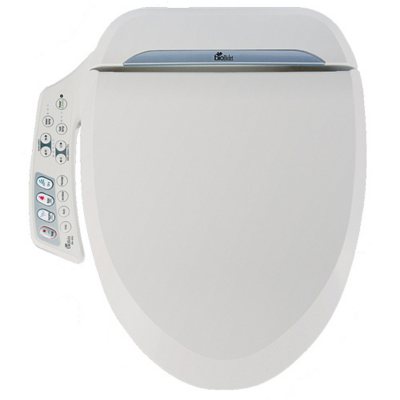 Transform your toilet into a comfortable, elegant and eco-friendly bidet!
Description
Improve personal hygiene by transforming your toilet into a comfortable and elegant bidet! For those who have always wanted to experience what full-size bidets can provide, the BB-600 is a full-featured bidet seat that attaches to your toilet without expensive and messy plumbing alterations. Functioning like an upside-down shower, it offers the cleansing power of running water to gently and effectively remove germs and bacteria from sensitive skin areas. With front and rear warm water cleansing, anti-bacterial material, adjustable water temperature and pressure, a heated soft closed seat, and a massage feature with a wide clean function, the BB-600 provides unparalleled cleaning. Cleansing is followed by a hands-free warm-air dry, adjustable to three settings. And due to its ease of use, it is especially valuable for the physically challenged and the elderly as it makes it easier for them to independently maintain cleanliness.
Specifications
Dual nozzle
Warm air dryer device
Heated seat
Auto wash / kid feature
Oscillating / pulsating wash
Aerated bubble water stream
External water filter
Self-diagnose
Hydraulic seat & lid
Self-cleaning nozzle
Anti-bacterial materials
ISO 9001
Power Rating: AC 120V, 60 Hz, 660W
Power Cord: 1.2 m (3.9 feet)
Posterior Wash: 850 ± 150 ml / min
Feminine Wash: 950 ± 150 ml / min
Tank Capacity: 800 ml
Water Temperature: Room temperature ~40 °C (~104 °F)
Heater Capacity: 600W
Wash Devise Safety Devices: Thermal fuse, thermal switch, float switch
Heated Seat Temperature: Room temperature ~40 °C (~104 °F)
Seat Heater: 55W
Seat Safety Devices: Thermal fuse
Dry Feature Air Temperature: Room temperature ~60 °C (~140 °F)
Dry Feature Heater: 250W
Dry Feature Safety Devises: Bi-metal, thermal fuse
Air Purifier: Catalytic filter
Water Supply Pressure: 11~107 psi (0.08~0.74 MPa)
Circuit Breaker: Within 15mA 0.03 sec

Dimensions and Weight:
Dimensions: 18.3"W x 20.5"L
Weight: 11.9 lbs.
Warranty Information
BBC Innovations ("the company") warrants the Bio Bidet to be free from manufacturing defects under normal and intended use. This warranty is extended only to the original retail buyer and residential location for one year from the date of purchase. Obligations are limited to the repair or replacement of the unit that we find to be defective provided that it was properly installed and used according to the manual included. If a defect covered by this warranty occurs, call 864-285-0071. The company will not be responsible for any consumer costs related to the removal, return to company and/or reinstallation of the unit as well as for any consumer loss related to incidental / consequential damages or expenses incurred by the purchaser (see manual for damages not covered). The company will only warrant registered products with returned registration cards or from online registration with proof of purchase within 30 days of the original purchase date. Warranty is void if the "CAUTION" label is removed.
There is no additional information available for this item.