Aliens vs. Predator - PS3
by
Sega
|
Item
#:

362965
|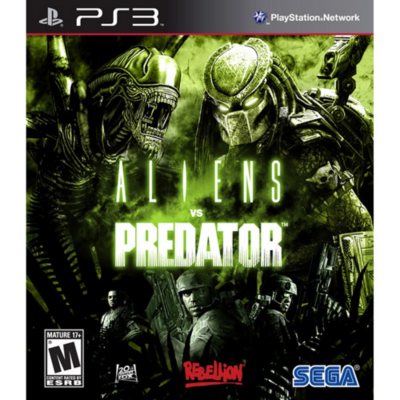 We're sorry, this item is not available in your selected Club.
 Check another Club
ESRB Rating: M for Mature
Description
Three breeds of warrior. Three brutal campaigns. One relentless battleground.

In deep space, on the frontier of human colonization, an ancient pyramid is discovered. Whenarchaeologists probe the pyramid's secrets they unwittingly trigger an apocalypticconfrontation between vengeful Predators, menacing Aliens, and heavily-armed ColonialMarines.

Welcome to Aliens vs. Predator, a stunningly-detailed FPS that seamlessly blends the action andintensity of one of the most popular movie franchises of all time. Whether you stalk your preyas a Predator, evolve into the perfect killing machine as an Alien, or use superior firepoweras a Colonial Marine, one thing is certain. This will be a battle for the ages.
Specifications

Master the skills of three deadly species:
As a Predator, use your cloaking abilities and multiple vision modes to stalk your enemies while remaining hidden; Then rip out their spines with your wrist blades, or snipe them from afar with your plasma caster
As an Alien, use your finely-honed killer instincts to become the most lethal creature in the galaxy; Traverse any surface at blinding speeds, emerging from the dark to tear off your victims' heads or impale them with your dagger-sharp tail
As a Colonial Marine, use your diverse arsenal and overwhelming firepower to hold the line against seemingly impossible odds
Discover three unique single-player experiences:
Each of the three species has its own unique storyline that intertwines with the others to create a compelling cinematic narrative, inspired by one of the most popular movie franchises of all time
Plunge yourself into intense online multiplayer combat and take on hordes of online opponents in adrenaline-fueled multiplayer battles
Stalk your prey silently as a Predator, become a nightmarish killing machine as an Alien or lay down a barrage of lethal fire as a battle-hardened Colonial Marine
Take advantage of each faction's unique abilities to rise to the top of the leader boards and become the most dominant species in the universe
Warranty Information
30-day
There is no additional information available for this item.