4.74A 19V AC Adapter HP Presario CQ40
by
Denaq
|
Item
#:

62721
|
Model #:
3133578
|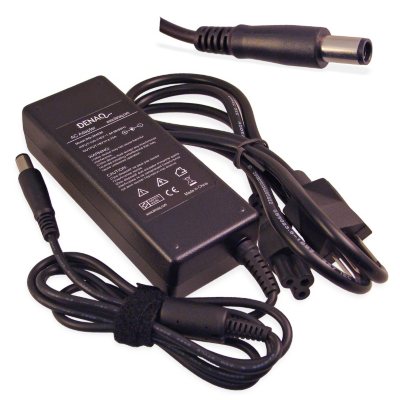 Shipping
Enter ZIP Code for shipping options
Estimated arrival
Delivery estimates, taxes, and fees are based on ZIP Code. Club Pickup orders are based on your club's current price and item availability on the day of payment.
About this item
Part Number: DQ-384020-7450
Designed for HP Laptops
Description
This is a new 4.74A 19V AC laptop charger for your HP laptop computer.
Specifications
Type: AC-Adapter
Device: Notebook
Output: 4.74A
Power Rating: 19V
Codes: 384020-001, 384021-001, 384020-003, 391173-001, 409992-001, ED495AA, PA-1900-18H2, PPP014L-SA
Compatible: Business Notebook(2210B, 2230S, 2510P, 2710P, 6510B, 6515B, 6530B, 6530S, 6535B, 6710B, 6710S, 6715B, 6715S, 6730B, 6730S, 6735B, 6735S, 6830S, 6910P, NC2400, NC4400, NC6320, NC6400, NW8440, NW9440, NX6310, NX6315, NX6320, NX6325, NX7300, NX7400, NX8420, NX9420)
Elitebook(2530P, 2730P, 6930P, 8440P, 8530P, 8530W, 8540W)
Envy(17)
G42(G42-100) G50(G50-100) G60(G60-100) G61(631NR) G62(229NR, G62-100) G70(G70-100) G71(329WM) G72(G72-100)
Pavilion(DM4-1000, DM4-1162US, DM4-1164NR, DM4-1173CL, DM4-1250CA, DM4-1253CL, DM4-1265DX, DM4-1277SB, DM4T SERIES, DM4T-1100, DM4T-1200, DV3-4000, DV4, DV4-1000, DV4-2142NR, DV4T, DV4T-1000, DV4Z, DV4Z-1000 CTO, DV5-1000, DV5-1000EA, DV5-1000US, DV5-1001AU, DV5-1001AX, DV5-1001TU, DV5-1001TX, DV5-1002AU, DV5-1002AX, DV5-1002NR, DV5-1002TX, DV5-1002US, DV5-1003AX, DV5-1003CL, DV5-1003NR, DV5-1120, DV5-1120US, DV5-1124, DV5-1124CA, DV5-1250US, DV5-2000, DV5T, DV5Z, DV6-3000, DV6-3108CA, DV6-3109CA, DV6-3114CA, DV6-3118CA, DV6-3120US, DV6-3121NR, DV6-3122US, DV6-3123CL, DV6-3124NR, DV6-3127DX, DV6-3129NR, DV6-3131NR, DV6-3132NR, DV6-3133NR, DV6-3134CA, DV6-3134NR, DV6-3138CA, DV6-3140US, DV6-3143CA, DV6-3143CL, DV6-3143US, DV6-3144CA, DV6-3145DX, DV6-3147CA, DV6-3147SB, DV6-3150US, DV6-3152NR, DV6-3153NR, DV6-3155DX, DV6-3158CA, DV6-3160US, DV6-3163CL, DV6-3167CA, DV6-3170CA, DV6-3174CA, DV6-3194CA, DV6-3210US, DV6-3217CL, DV6-3223CL, DV6-3225DX, DV6-3227CL, DV6-3230US, DV6-3231NR, DV6-3232NR, DV6-3240US, DV6-3243CL, DV6-3250US, DV6-3257CL, DV6-3257SB, DV6-3263CL, DV6-3267CL, DV6-3270CA, DV6-3278CA, DV6-3280CA, DV6-3287CL, DV6-4001XX, DV6T, DV6T SERIES, DV6T-2000, DV6T-3000, DV6T-3100, DV6T-3200, DV6T-4000, DV7, DV7-4000, DV7-4104CA, DV7-4127CA, DV7-4138CA, DV7-4148CA, DV7-4151NR, DV7-4153CL, DV7-4154CA, DV7-4157CL, DV7-4167CA, DV7-4169WM, DV7-4170US, DV7-4171US, DV7-4173US, DV7-4174CA, DV7-4177CA, DV7-4177NR, DV7-4178CA, DV7-4178NR, DV7-4179NR, DV7-4180US, DV7-4182NR, DV7-4183CL, DV7-4191NR, DV7-4197CL, DV7-4198CA, DV7-4248CA, DV7-4260CA, DV7-4263CL, DV7-4267CL, DV7-4270US, DV7-4272US, DV7-4273US, DV7-4274NR, DV7-4276NR, DV7-4280US, DV7-4283CL, DV7-4285DX, DV7-4287CL, DV7-4288CA, DV7-4290US, DV7-4297CL, DV7-5001XX, DV7T, DV7T-1000, DV7Z, DV7Z-1000, G50, G5000, G60, G6000, G61, G70, G7000, G71, G71-329WM)
Presario(B1210, CQ32, CQ40, CQ42, CQ45, CQ50, CQ60, CQ62) PROBOOK(4330S, 4331S, 4430S, 4431S, 4435S, 4436S, 4510S, 4530S, 4535S, 4730S)
Tablet PC(TC4400)
Assembled Size
7.5"L x 5"W x 1.75"H
Member reviews & questions