Energizer AGM Commercial Battery - Group Size 31A
by
Energizer
|
Item
# 443703
|
Model#:
31A AGM
|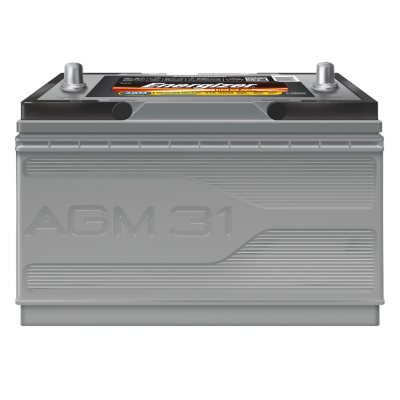 Energizer Absorbent Glass Mat (AGM) batteries are designed for the most demanding applications and come with the reliability, power, convenience, and long life required to power your busy life.


ONLY AVAILABLE IN CERTAIN STATES
Description
In today's market, not only does it start your vehicle, it powers all of the electronics we love to have with us on the road such as cell phones, CD players, ipads, ipods, videos, etc. All of these accessories takes a toll on the battery. Every new electronic component creates a new power draw, leading to increased discharge and recharge cycles, which in turn shortens the lifespan of ordinary flooded batteries. Energizer Absorbent Glass Mat (AGM) batteries are designed to meet these increasing vehicle demands including Start Stop applications. Our patented grid design has thicker wires to prevent premature failure, resist corrosion and provide superior starting performance throughout the life of the battery. Our AGM negative plate, with its proprietary paste mixture, accepts charges quicker so the battery recharges faster. The Absorbent Glass Mat is wrapped around the positive plate to separate it from the negative. The precise consistency of the grids creates a uniform book of plates that are tightly compressed in each cell and held under pressure in a reinforced case. The result? A battery that resists vibration, recharges faster, cycles more often and lasts longer in your vehicle.


ONLY AVAILABLE IN AK, AR, AZ, CA, CO, HI, IA, ID, KS, LA, MN, MO, MT, ND, NE, NM, NV, OK, SD, TX, UT, WA, WI, and WY
Specifications
12 volt
825 CCA / 1000 CA
Absorbed Glass Mat (AGM) Battery Technology is ideal for vehicles with multiple electronic accesories or for batteries located in the cabin or trunk
Up to 2 times the life of standard SLI and some tradiitional AGM batteries
Meets or exceeds the OEM Specifications
100% Non-spillable; No restriction on transportation and mounting flexibility in the vehicle
Excellent Starting Power, in low temperatures and at a low state of charge
Increased cycle life over conventional flooded Commercial 31 batteries
100% maintenance free
Patented Grid Design for superior starting performance throughout the life of the battery
Solidium Weld System increases durability for extended life
Valve Regulated Lead Acid (VRLA) batteries reduce water loss even in high heat conditions
Rugged reinforced polypropylene composite case holds the plates under compression even in high-vibration applications.
Integrated picture-frame handles allow for convenient carrying and installation.
Core Charge May Apply
Warranty Information
12 Months free replacement

There is no additional information available for this item.