Dunlop Direzza DZ101 - 235/55ZR17 99W
by
Dunlop
|
Item
#:
|
Model #:
265-024-218
|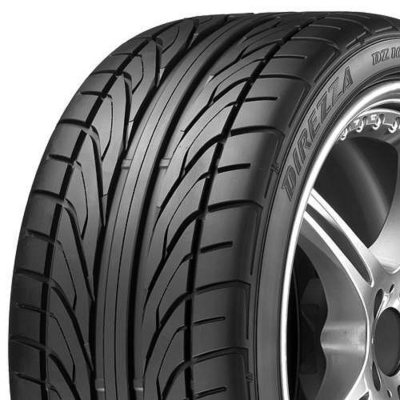 Free Shipping

High-performance meets style at an attractive price
Description
High rigidity shoulder blocks deliver maximum dry grip and cornering power. SilicarbonMatrix™ is a special blend of silica and carbon black that enhances wet and dry traction.Directional tread pattern and two wide, straight tread channels with long, oblique grooves helppump water out from under the footprint for excellent grip in wet conditions.Performance-inspired tread and sidewall design make good-looking vehicles look even better.Jointless Band Technology™ helps maintain the tire's shape and enables smooth performance athighway speeds, while Max Flange Shield® protects the rims from accidental curb damage.Finally, 5-Pitch Technology™ aids noise reduction for a quiet ride.
Specifications
Tire size: 235/55ZR17
Service description: 99W
Sidewall: BSW Black Sidewall
Material number or MSPN: 265-024-218
Rim width (min. to max.): 6.5 - 8.5
Section width: 9.7
Overall diameter: 27.2
Tread depth (32nds): 10
RPM: 769
Max load: 1709



UTQG Rating:

Treadwear: 300
Traction: A
Temperature: A

Note: Tires are not available for order in Hawaii orAlaska.
SAM'S CLUB Basic Tire Warranty
Workmanship and Materials:
The passenger or light truck tires purchased from SAM'S CLUB, used in normal service on thevehicle on which they were originally installed, are covered by the manufacturer's limitedwarranty against defects in workmanship and materials for the life of the original usable treador 4 years from date of purchase, whichever comes first. At that time, all warranties, expressor implied, are terminated. The life of the original usable tread is the original tread down tothe level of the treadwear indicators - 2/32nds of an inch of tread remaining. Date of purchaseis documented by the tire sales service work order. If there is no proof of purchase date,coverage will be based on date of manufacture. Replacement will be made in accordance with theterms and conditions described in the "How Replacement Charges are Calculated." TireInstallation Package charges are applicable on the replacement product.
Treadwear:
If, within four years of the date of purchase, (unless warranty time frame differs as specifiedby the tire manufacturer), the tire wears evenly across the tread, down to the treadwearindicators (2/32nds of an inch of tread remaining), before providing the warranted miles ofservice as indicated by the vehicle odometer, it will be replaced with a comparable new SAM'SCLUB tire for a pro-rata charge based on mileage received as described in the "How ReplacementCharges are Calculated." Tire Installation Package charges are applicable on the replacementproduct.
What's Not Covered
Tires which become unserviceable due to:
Road hazard injury (e.g., a cut, snag, bruise, impact break or puncture, whether repairableor not)
Incorrect mounting of the tire, tire/wheel imbalance or improper repair
Underinflation, overinflation, improper maintenance or other abuse
Mechanical irregularity in the vehicle such as wheel misalignment resulting in uneven orrapid wear
Accident, fire, chemical corrosion, tire alteration or vandalism
Tires used in commercial service for treadlife
Tires which have worn out unevenly (a tread groove difference of 2/32nds of an inch or moreon the same tire)
Ozone or weather checking

How Replacement Charges are Calculated
Workmanship / Materials:
A tire which becomes unserviceable due to a condition covered under the workmanship andmaterials limited will be replaced with a comparable new tire, free of charge, when 2/32nds ofan inch or less of the original tread is worn and within 12 months of the date of purchase. TheTire Installation Package is provided at no cost on the free replacement tire. The cost of anyother fees and applicable taxes is payable by the member.
When more that 2/32nds of an inch of original tread has been worn or after 12 months from dateof purchase, the Member must pay the cost of a comparable new passenger or light truck tire ona pro-rata basis. The replacement charge will be determined by multiplying the percentage ofthe original usable tread worn, by the current SAM'S CLUB selling price. Tire installationcharges, other fees and applicable taxes are payable by the Member.

Treadwear:
A tire, which is worn down to 2/32nds of an inch or less prior to delivering the warrantedmileage, and which has not exceeded the four year time limit (unless warranty time framediffers as specified by the tire manufacturer), is eligible for an adjustment credit based onthe difference between the actual mileage delivered vs. the warranted mileage. TireInstallation Package charges are applicable on the replacement product.
Warranty Information
No Mileage Warranty
There is no additional information available for this item.